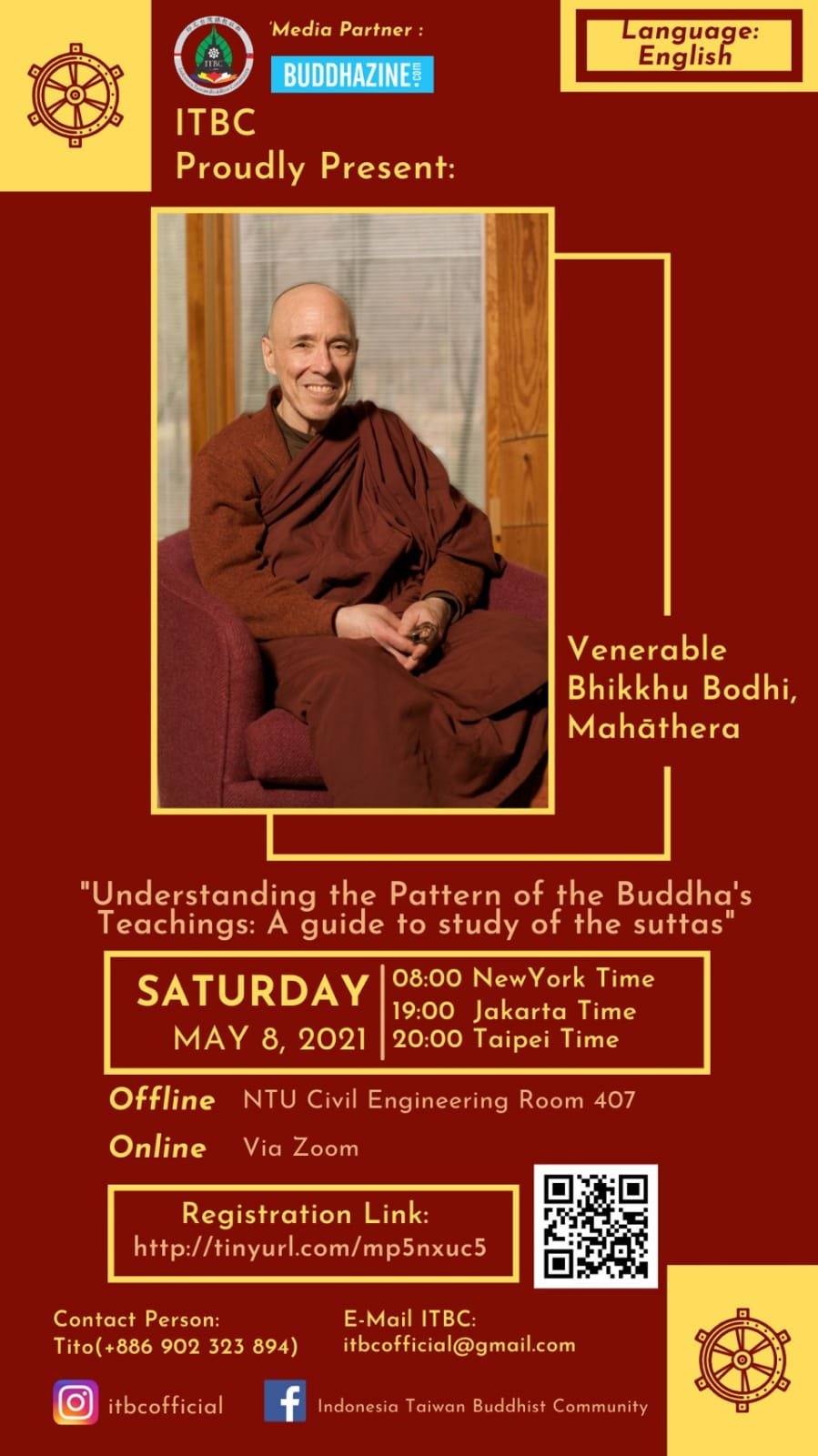 Sunday, 2 May 2021

Sponsored

0
Halo teman-teman; Indonesia Taiwan Buddhist Community (ITBC) adalah komunitas mahasiswa Buddhis Indonesia yang menyelenggarakan berbagai aktivitas keagamaan untuk mahasiswa yang sedang merantau di Taiwan. Bulan depan, ITBC mengajak kawan-kawan semua untuk hadir di sesi Zoom yang istimewa!
Pada tanggal 8 Mei mendatang, ITBC mengundang pembicara spesial! Beliau adalah Ven. Bhikkhu Bodhi, seorang akademisi dari Amerika yang ahli Tipitaka dan Bahasa Pali. Beliau sangat terkenal karena beliau menerjemahkan banyak sekali kitab-kitab Tipitaka dari bahasa Pali ke Inggris. Selain itu, beliau ahli dalam menjelaskan isi Dhamma kepada umat awam supaya mudah dimengerti dan mudah dipraktekkan.
Kali ini, Dhammadesana yang akan dibawakan beliau berjudul "Understand the Pattern of the Buddha's Teachings: A Guide to Study the Suttas".
Karena beliau tinggal di New York, sesi Zoom akan diadakan pada Hari Sabtu malam karena ada perbedaan zona waktu 12 jam.
Jadi, teman-teman yang bulan Mei mendatang bingung mau ngapain saat malam minggu, yuk bisa dicatat tanggal dan waktunya:
Sabtu, 8 Mei 2021
Open Gate – 18:00 WIB
Dhamma Talk – 19:00 WIB
Pendaftaran bisa dilakukan dengan Scan QR Code, atau ke link:
Untuk info lebih lanjut, bisa kontak:
-Tito (+886 902 323 894)
-ITBC ([email protected])
*Catatan: Dhammadesana Bhikkhu Bodhi sepenuhnya akan dibawakan dalam Bahasa Inggris*
Terima kasih ????
=================
Ayo Bantu Buddhazine
Buddhazine adalah media komunitas Buddhis di Indonesia. Kami bekerja dengan prinsip dan standar jurnalisme. Kami tidak dibiayai oleh iklan. Oleh sebab itu, kami membuka donasi untuk kegiatan operasional kami. Jika anda merasa berita-berita kami penting. Mari bordonasi melalui Bank Mandiri KCP. Temanggung 1850001602363 Yayasan Cahaya Bodhi Nusantara